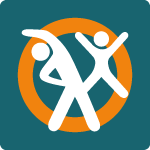 Treated Wood
RULES OF USE

Preamble
On behalf of the Campus Berlin-Buch user community, Campus Berlin-Buch GmbH makes the art-in-building object "Treated Wood" available to selected user groups in accordance with the following terms of use. By entering the object, the user accepts these terms of use.
Purpose of use
Treated Wood is primarily used by CampusVital for outdoor sports courses. Outside of CampusVital training hours, Treated Wood is available for seminars and meetings for campus employees.
Times of use
Events at Treated Wood must be booked through CampusVital's online booking calendar at https://kurse.campusvital.de/. Appointment bookings are available on weekdays from 7am to 7pm at hourly intervals.
Rules of order
The persons using the facilities must ensure that the Treated Wood is kept tidy and clean. The premises must not be littered. Paper and other waste must be collected and taken away. Any misuse of Treated Wood is prohibited.
The consumption of alcoholic beverages and open fires of any kind (e.g. lighters, matches, candles) in any form (e.g. barbecues, smoking) are prohibited.
Should you notice or cause any damage or pollution on the premises, please report this to Campus Berlin-Buch GmbH - by telephone (030 / 9489 2511) or by e-mail (office@campusberlinbuch.de).
Domiciliary rights, violation of the rules of use
Campus Berlin-Buch GmbH has the domiciliary rights over Treated Wood. In the event of repeated violations of the usage regulations, Campus Berlin-Buch GmbH reserves the right to withdraw the right to use Treated Wood from individual persons or groups.
Liability
Campus Berlin-Buch GmbH provides Treated Wood to the person making the booking for use in the condition in which it is found.
The persons using Treated Wood shall indemnify Campus Berlin-Buch GmbH against any liability claims by its servants, members or agents, visitors to its events and other third parties for damage in connection with the use of the property provided. The persons using Treated Wood shall be liable for all damages arising from culpable conduct. The operator is only liable for damages caused by him or his vicarious agents. He is not liable for damage caused by force majeure, the behaviour of the user himself or the behaviour of third parties.
Campus Berlin-Buch GmbH Berlin, 01.07.2021