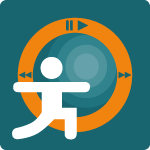 Online Courses
CampusVital offers the Body Center Xpress (GMX), Pilates, Back Training, Yoga and Meditation courses also in live mode with CampusVital trainers. All you need is a computer, tablet or smartphone and a stable WiFi connection. Please download the ZOOM app and register once (name and email):
PC: https://zoom.us/download
Smartphone app: "ZOOM Cloud Meetings"
Iphone: https://apps.apple.com/de/app/zoom-cloud-meetings/id546505307
Android: https://play.google.com/store/apps/details?id=us.zoom.videomeetings&hl=de
You can join the courses as follows:
Start ZOOM and join a meeting ("Home" then "Join"). Enter meeting ID and password. You will receive the meeting ID and password with the booking confirmation. The course is booked via the online calendar.
Please note: The offer is currently only available in German.
---