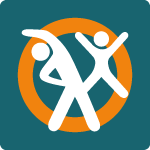 CampusVital LOUNGE
A new series of CampusVital provides news and interesting facts about health in a lounge atmosphere

We cordially invite all interested parties to the next CampusVital LOUNGE event on Wednesday, January 18, 2023 from 1:30-2:00 p.m. at Café rock-paper / Mensa foyer.

Insects as an alternative source of protein?
This exciting topic is highlighted by Bianca Lay, food technologist at INVITEK Molecular.
There are more and more people living on earth who, with increasing prosperity, want to consume more and more meat and high-quality protein. But at the same time, we have less and less arable land and land area available. Meat is also becoming scarce. "We should give insects a chance and include them in our Western diet and culture," says the speaker. Nutritionally, the benefits of insects are similar compared to other protein sources, but ecologically they are more valuable. With an average protein content of 40-80% depending on the insect species and stage, they are highly nutritious.


Every two months, the CampusVital LOUNGE presents interesting topics from different fields of knowledge. The state of health research at the Campus Berlin-Buch will also be included.
Location:
Campus Berlin-Buch
Mensa foyer, House A14
Robert-Rössle-Str. 10
13125 Berlin