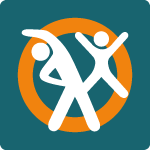 Sports Rehab
We offer orthopedic sports rehab with small devices in courses several times per week (see course schedule below). The aim of the training sessions is to improve strength, mobility, coordination and endurance. Through the varied training program, specific muscle groups and joints shall be stabilized and their flexibility maintained through stretching and strengthening. In addition to improving basic motor capabilities, the focus will be on the fun and joy of movement.

Registration for Sports Rehab
If you have an acute or chronic illness, you can submit form 56 (application for reimbursement of costs) to take 50, 90 or even 120 therapy sessions with a doctor's prescription. Submit form 56 to obtain a prescription for sports rehabilitation therapy under the sports rehabilitation provision; it is a "pink slip" to which every individual with an acute or chronic disease is legally entitled. This prescription (form 56) is issued by your physician and is not dependent on the quarterly prescription budget; it must subsequently be approved by your health insurance company. Prior to beginning the sports rehab, an initial discussion with Torsten Schlick, our sports rehab consultant, is necessary. To make an appointment, please call Torsten Schlick at 030 - 9489 3346.