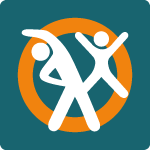 Courses
CampusVital offers daily exercise and relaxation courses lasting 30, 60 or 90 minutes. You can book the following courses:
Back Training
In back training, exercises are performed that relieve the back and strengthen the muscles. A three-dimensional functional training program is carried out using different training tools.
Spinal Gymnastics
The course aims to provide comprehensive information about the spine. By means of functional gymnastics, muscular imbalances shall be corrected and spinal mobility shall be improved.
Pilates
Pilates is an exercise program consisting of gymnastics and relaxation and stretching techniques. We train breathing, strength and agility and gently relax the body, mind and soul. Important areas are the shoulder and neck as well as the back, abdomen and pelvic floor. We train on the mat. Pezzi balls are available for use.
Yoga
Hatha yoga, a holistic form of yoga, is challenging and relaxing at the same time. It helps you gain more flexibility on the physical and mental level, more ease and clarity in everyday life. Yoga is more than just sports. The conscious use of physical exercises and mindful breathing also influence our mental abilities, our emotions and leads to increased well-being. The meditative elements in the yoga session contribute significantly to stress reduction and generate serenity as well as emotional balance. The strengthening of the torso muscles, an anatomically correct alignment of the spine and the mobilization of the joints have a very positive effect on the movement apparatus.
Body Center Xpress
In this course your body center will be strengthened in just 30 minutes. After a short warmup, your torso muscles are intensively trained to achieve a healthy posture. The training takes place with and without aids such as gymnastics balls, hand weights or thera bands. At the end, relaxation and stretching round off the course sessions.
Cross Circuit
Cross-circle training is a special method of condition training, in which different stations have to be completed one after the other. It trains strength, endurance, agility or speed, depending on the execution modality. The aim is to strengthen various muscle groups in a balanced way. In the consecutive exercises, different muscles are exercised, so that the resting muscles can easily regenerate themselves during the exercises for other body regions.
Cross Circuit is suitable for every fitness level.
Boot Camp
Boot camp is a combination of strength and endurance exercises performed outdoors in the fresh air. In our intensive, functional and varied full-body workouts, you can really gain power. Your heart rate rises, you burn countless calories and lower your everyday stress level! The workouts take place in small groups and, of course, in almost any weather.